The core of Nippon Soda's research and development activities are two bases: the Odawara Research Center and the Chiba Research Center.
Product development projects are pursued by both Centers and our production bases, along with close cooperation with our Technical Service Department which operates in close contact to our sales department. Under this research and development framework which can respond precisely to market needs, Nippon Soda is always working to develop valuable new products and technologies that are ahead of the times.
Research and development process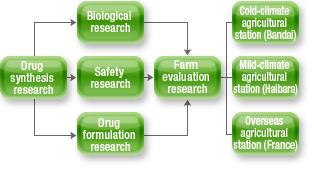 Using our own fields to drive efficient new drug development
—Odawara Research Center
The Odawara Research Center is driving research and development centered on agrochemicals, one of the main pillars of Nippon Soda's business.
Focused on the three fields of drug synthesis research, live evaluation research, and safety research, the Center is a multidiscipline research center with the Haibara Field Research Center and the Bandai Field Research Station as test farms. Based on advanced organic synthesis technologies, we are working not only on investigation and synthesis of new chemical compounds, but are also pursuing the bioactivity and safety of chemical compounds. Due to our distinct, integrated research framework that can be driven from basic research to field tests, quick and highly efficient agrochemical development is possible.
Efficient searching for new chemical compounds is also possible.
Furthermore, as an approach to a new field, we are expanding our research areas into the biocide field, and technologies using asymmetric synthetic catalysts and reactive microorganisms, and cultivating the buds of new products and technologies that rapidly meet society's needs.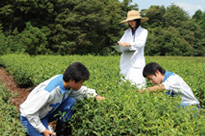 Farm evaluation research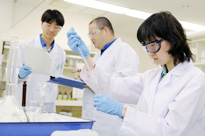 Safety research
Challenging new development of functional chemicals and production technology research
— Chiba Research Center
Established in 2010 in Chiba prefecture, Ichihara City, the Chiba Research Center is intended to respond quickly to technological development needs in the fields of functional materials and electrical materials, as well as research production techniques for related products efficiently. To this end, it combines the functions of basic research and manufacturing process research as well as establishes an integrated framework for carrying out everything from development of functional chemicals which use retention techniques such as organic synthesis, precise polymerization, composition, evaluation and structural analysis, to research in commercialization and streamlining improvements. We are working on the practical realization of new products in the wide ranging areas of specialty polymers, heat sensitive dye additives, control released ingredients, and functional membranes. We are also promoting high storage developers which boast a high share of the global market as well as further value addition to existing products.
Through cooperation with each of our marketing, technology service and manufacturing departments, we are creating products that the market demands.