Nippon Soda Group continues to realize "high value-added products through superior technology," developing organic synthesis products in the chemicals business and expanding and promoting products and projects for our eco business.
The total R&D expenditures of the group in the fiscal year under review amounted to ¥5,439 million, 3.9% of consolidated net sales.
Advanced Facilities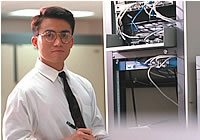 The Odawara Research Center for Agrochemicals researches and tests organic synthesis, biology and safety under an efficient integrated system that shortens development time.
The R&D Laboratory for High-Performance Materials develops chemicals based on our leading organic synthesis, polymerization, formulation and hardening and structural analysis technologies, thereby producing specialty polymers, functional pigments, living chemicals, environmental chemicals and controlled-release agents.
Outline of Activities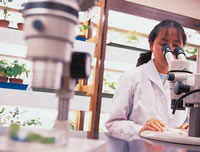 R&D expenses for the chemicals business category amounted to ¥5,396 million (US$40.6 million) and achieved impressive results.
Agrochemical registration in Japan is expected for the our new fungicide NF-149 and its compound, NF-154.
R&D in our pharmaceutical division currently centers on promising bulks and intermediates for carbapenem and penem antibiotics.
In the area of functional high polymers, the Company marketed a new polymer used as resin material for semiconductors and is promoting R&D of others.
In the area of sulfur and phosgene derivatives, we are developing a variety of high-functional products and intermediates.
For existing products such as METHIONINE, the Company research is achieving substantive process improvements intended to strengthen competitiveness.
In the sub-category of eco chemicals, the Company has developed and begun full-scale marketing of a slime remover employing an inclusion technology. The Company is also developing markets for BISTRATER, a photo catalyst and HIDION, a chelating agent for heavy metals. Our PCB detoxification technology using metal sodium dispersants is now under in-house treatment to promote its application in regional detoxification treatment projects and more.
In non-ferrous metals and other fields, research and development expenses amounted to ¥42 million.
The Company actively develops new uses for a variety of new alloys while researching their continual improvement, and is establishing treatment technology for hard-to-treat industrial waste and systems for effective recycling and recovery of valuable industrial waste.