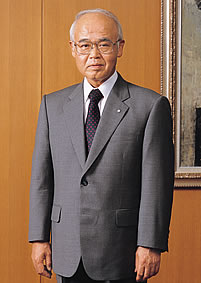 President
Katsunobu Inoue

Evaluation of business results for the term



Q1.
What is your analysis and evaluation of the business environment and earnings for the term under review?
A1.
While the domestic economy as a whole was on the track to moderate recovery, the chemical industry made good progress thanks to the expansion of demand primarily in China and a favorably developing petrochemical sector, etc. against the background of high crude oil prices. However, the market climate was still very severe for Nippon Soda Co., Ltd. with falling prices due to tough competition as well as the continually high cost of raw material and fuel, especially crude oil.
Under these circumstances, we proceeded to enhance our product lineup by acquiring new operations for the Chemicals Business divisions and strengthening our overseas business locations. We also made concerted efforts to increase orders and reduce the total overhead of the entire corporate group. Subsequently, we experienced an increase in orders through a favorable trend in orders for the technical and engineering departments, among others. Consolidated revenue and earnings of the group in the fiscal year ended March 2005 increased over the previous term. The Nippon Soda group posted net sales of ¥144.4 billion, income from operation of ¥5.1 billion, and a net income of ¥1.9 billion. As for dividends, we have determined to continue to pay ¥5 per share.


Evaluation on policy measures of focal points Agro Products Division



Q2.
Please summarize your investment activities in the Agro Products Division during the fiscal year ended March 2005, and explain how you see the resultant enhanced product lineup and so forth.
A2.
I can say that the investment activities in the Agro Products Division were quite successful. As for fungicides BEFRAN and BELLKUTE, which we acquired from Dainippon Ink and Chemicals (DIC), although sales were below expectations partly due to the streamlining of our sales channels, we can expect various synergistic effects (overall utilization of the Company´s sales channels, production shifts, enhanced marketing with newly developed additives, overseas expansion and so on) based on firm demand.
Additionally acquired business operations include: the preservative and antifungal agent businesses (BIOCIDE) in the industrial chemicals field. In this sector, we expect further development and significant progress in the future, by integrating the drug development knowhow accumulated by the former DIC and Nippon Soda´s proprietary agricultural fungicide and water treatment techniques.

Q3.
The Company established a foothold of agrochemical business in China and became the largest shareholder of IHARABRAS S/A. in Brazil to develop overseas business offices. How have they been performing? A3.
In China, the Company has expanded its business for 40 years through such products as the herbicide NABU, the acaricide NISSORUN in addition to its pioneer product, the fungicide TOPSIN-M. During that period, the Chinese economy, and the procurement of agricultural chemicals, have changed dramatically by shifting towards private commercial distribution. To proactively respond to these trends, we upgraded the agrochemical office to an affiliate last year.
Taking this opportunity, while we have been strengthening the advertising and distribution system of agrochemical products, we have also continued efforts to procure intermediate materials and establish measures for counterfeit products, where we have already produced material results.
As for our becoming the largest shareholder of IHARABRAS S/A., we have built our next foundation in Brazil, where the agrochemical market is dramatically growing, by showing our commitment to local distributors and respective companies in the industry. In addition, I think that we can expect actual results for the enhancement of our product lineup owing to the increase in contracted sales for various agrochemical companies in Japan and the strengthening of our corporate management base, etc. Thereby, we can greatly contribute to the expansion and development of our agrochemical business.

Q4.
As one of the key issues in strengthening the Agro Products Division, how is the Company´s research and development of new products faring? A4.
One of the Company´s basic policies is "to create new drugs by continuing research investment specialized in agriculture and horticulture." It is our policy to limit target areas and develop niche products globally and thereby maintain our competitiveness to hold our own among the large global players and generic manufacturers. Other than those products planned to bring to the market by our research institutes at the end of the year, we found promising themes from among products transferred by DIC and we expect that we can bring them to the market in the near future.

Q5.
The Company currently targets sales of ¥50 billion for the Agro Products Division. What is Nippon Soda´s corporate strategy for the next term? A5.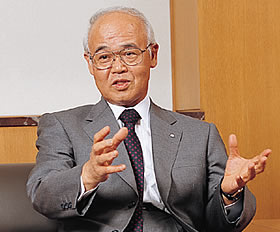 The Company´s gross sales amounted to ¥35 billion, including the acquisition of the former agrochemical business of DIC. First, we will further strengthen corporate alliances with our peers in Japan (e.g. joint development/business alliance). Joint development work on fungicide/insecticides has already started and we are now considering business alliances to be one viable option for ensuring profitability in a market climate of downscaling.
Also, overseas, we will further develop our own network. We have built a four tier system by incorporating our Shanghai office last year and will further improve and enhance these operations. In the United States, we have started to concretely examine the feasibility of setting up our own sales network. With these measures, I think that we can expect to be able to benefit from direct involvement in the planning of market information/sales policies, and the enhancement of profitability due to the decline of local sales margins, and such.
Through these measures, we will devise strategies that are different from major overseas agrochemical companies so as to be clearly recognized as a distinct entity in our own right.


Other business divisions



Q6.
We hear that new electronic materials and dye stuff chemicals are being launched. Tell us about their development from now on, as well as the businesses of Custom Manufacturing including phosgene derivatives and treatment system by dechlorination for PCBs. A6.
As for electronic materials, first, I will explain about SAM (Self-Assembled Monolayer). Self-assembled monolayers are ultra thin films of only a few nanometers, with complete monocular arrangement and orientation. The Company established the world´s first high-speed plastic technique and completed SAM plastic processing equipment within its R&D Laboratory for High Performance Materials in March 2005. As the Company became able to perform surface treatment of molds for resin forming, etc., it started providing samples to users. In the future, the Company aims to achieve sales of several billion yen by promoting commercial viability in the flat display area, nanoprint area including DVD optical recording disks, in addition to surface treatment of molds.
Also, photoresist for semiconductor, VP-POLYMER, maintains a top share in the KrF photoresist market. In the next generation ArF area, we promote research and development so that we may play a leading role and aim at introducing to the market soon, once we are capable of satisfying the tough demands of users.
As for the dye-related business (color developers for thermal paper), a new developer D-90, which was introduced to the market 5 years ago, has been improved dramatically in terms of lower plasticity and better oil resistance of the current major developer D-8. Its benefits have recently come to be recognized and its sales are expected to grow remarkably. Therefore, we have decided to newly install more equipment to increase our capacity to 1,000 tons/year at our Chiba Factory.
This spring, we launched the next generation developer D-100, which is excellent particularly in its good thermal resistance and high light resistance. This is the result of our research and development on color developers for thermal paper, and we will endeavor to enthusiastically promote it.
Among the phosgene derivatives that are part of the business categories of Custom Manufacturing and treatment system by dechlorination for PCBs, the demand for special ISOCYANATE, urethane materials for automotive auxiliary springs, increased. This was partially due to the booming market in the automobile industry, and we are responding to this higher demand by stepping up production. High class/high refractive index glass lens materials, which are also sulfur derivatives, have been going strong.
In the pharmaceutical product sector, we also aim to expand our contracted business based on our proprietary technology in various areas; for instance, the early commercialization of A-0026, new disinfectant drug substances.
The treatment system by dechlorination for PCBs via SD method, utilizing our own proprietary sodium metal, was adopted by Hokuriku Electric Power Company in 2003 and subsequently picked up by the Kita-Kyushu branch of JESCO (Japan Environmental Safety Corporation), where it is now in full-scale use. Also, Tohoku Electric Power Co., Inc. recently decided to adopt it; and we will endeavor to positively expand our business, starting from the second stage of JESCO Kita-Kyushu business and other demand from electric companies and private enterprises.

Q7.
What do you see to be your challenges and policy measures for strengthening other operating divisions in the next fiscal year? A7.
In April 2005, we reorganized the structure of related chemicals divisions so that we may make structural improvements by selectively concentrating on products and businesses with profit potential. This gives us the expansion of core products/businesses, flexible management for cultivation of new products, and concentration of resources. On the other hand, for those existing businesses/products that are facing structural problems, we will strictly assess their capability and business potential for the future and ultimately make the appropriate informed decisions.


Towards the next fiscal year



Q8.
Although it was announced in the Tanshin Business Report accompanying Nippon Soda´s most recent Financial Statement, what is your business performance forecast for the next fiscal year? A8.
Although it seems that the domestic economy will continue to show hints of recovery, we cannot be too optimistic due to concerns for price trends in crude oil and raw materials, etc. and foreign exchange rates.
Under such circumstances, the Nippon Soda group will proactively promote its business activities, beginning with the development of high value-added products to meet the needs of the market, and, at the same time, strive to continuously reduce production costs and expenses. However, regrettably, in the next fiscal year, we find ourselves needing to book considerable impaired losses due to the adoption of asset-impairment accounting. With this opportunity, we will plan and implement adequate measures for those items to which asset-impairment accounting will be applied, while we will consistently pursue a policy for expanding the demand for our products and a policy for fostering the development of new products.
Further, as for the consolidated business results for the fiscal year ending March 2006, we forecast ¥145.0 billion for net sales and ¥2.1 billion for net loss.


Message to shareholders and investors



Q9.
The fiscal year ending March 2006 was defined as "a year for change," and "a year for determination and implementation." What kind of year do you think the fiscal year ending March 2007 will turn out to be? A9.
Nippon Soda´s business environment is changing by the minute, which affects our corporate management in no small measure. We are faced by such challenges as intensifying global competition in the chemical industry, market reorganization, changes in demand composition, etc.
In this situation, the Company must transform itself to respond to such changes and survive and grow. In other words, while strengthening our core products and businesses, we are required to newly establish growing products and businesses by cutting out inefficient areas. To tackle these challenges, the Company will steadily proceed to implement corporate restructuring from the adoption of impairment-accounting during fiscal years ending March 2006 and 2007. We will further concentrate the collective efforts of the entire group to achieve a corporate makeup that enables us to post steady profits.
Also, the Nippon Soda group will strengthen the compliance system by establishing the "Nippon Soda Group Code of Conduct" to proactively engage in environmental corporate activities, increase corporate disclosure of financial information, and comprehensively adopt corporate activities based on compliance and corporate ethics; thus enhancing our reliability in the eyes of society.
We regret to inconvenience you, our cherished shareholders, but we hope that you will extend even greater support and encouragement to the Company in the critical times to come.