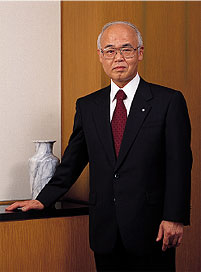 President
Katsunobu Inoue

Industrial conditions remain severe in the increasingly globalized social and economic environment due to prolonged deflation and uncertainty over the future. In the chemical industry, companies are poised to set their targets to ensure their corporate survival by offering greater added value and originality as well as to demonstrate their roles in contributing to the development of a rich, safe living environment that harmonizes with earthly nature.

Against this background, Nippon Soda, embraces its fundamental corporate principles of pursuing sound, law-abiding and transparent corporate management as well as its management goal of continued growth as a chemical company characterized by superior technological expertise. The Company has been focusing on enhancing existing product lines through technological innovation while offering various distinct, high-value added products supported by original technology such as precision organic synthesis.

For example, our proprietary agricultural insecticide MOSPILAN, the new germicide PANCHO-TF, sulfur derivative color former for thermal paper and various phosgene derivatives are our key achievements in the recent years and we have received high recognition and reliability for our quality and technological ability.

Nippon Soda, through its business activities seeks to serve as an indispensable corporate citizen. Among the Company's latest involvements aiming to help protect the environment and realize of pleasant living surroundings is the treatment system by dechlorination for PCBs as well as the distinct optical catalyzer technology. Moreover the Company has fixed its sights on the food issues of the 21st century, it is also engaged in the effective, safe development of a variety of agrochemicals and feed additives.

Nippon Soda, in order to continue providing society with a diversity of sophisticated products and technology in high demand will globally focus its R&D resources on three key areas: agribusiness, eco-business and specialty chemicals, proceeding to proactively and promptly meet challenges aiming to become a chemical company with its own distinct features.