Accelerating Global Operational Strategy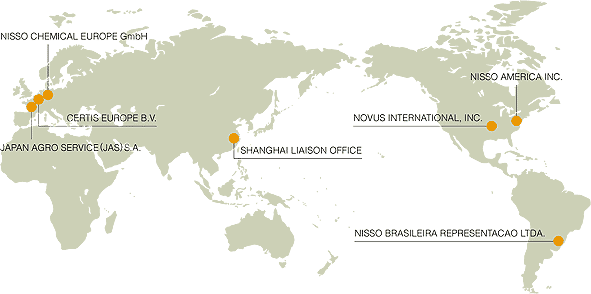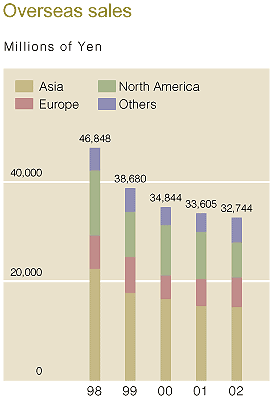 The Company is expanding our overseas network to establish bases from which we can promote the global operational strategy for our products.
In North America, in addition to Nisso America, Inc., the Florida Laboratory is creating new compounds and Nisso TM LLC, a joint venture with Atofina, prepares registration data and sells the fungicide TOPSIN-M on the agrochemicals market.
In Brazil, Nisso Brasileira Representacao LTDA., established in 2000, steadily promotes our products.
In Europe, in addition to Nisso Chemical Europe GmbH, the Company infused capital into Certis Europe B.V. in the agrochemicals field. Our business operations through JAGRI S.A.S., a local sales company incorporated in France, began in 1997 and will continue to expand into other operational areas.
In January 2002, the Company opened the Shanghai Liaison Office in China. This direct advance into China is the fourth base-joining North America, South America and Europe-for overseas promotion of our flagship business in agrochemicals.



Shanghai Liaison Office Opens
Since China is one of the world's large markets for agrochemicals, the Company has steadily increased numbers of technical guidance staff to China to promote our brand products. We opened the Shanghai Liaison Office to enable direct marketing in this promising market and also plan to set up a local corporation as a part of our global agrochemical strategy.