Original Technologies and
Rationalized Group Management
Promote Steady Corporate Growth

Nippon Soda Co., Ltd. has continued refining our unique technologies in the fields of agrochemicals, pharmaceuticals and specialty chemicals, while accelerating the development of new products. The Company has also further rationalized the Nippon Soda Group organization in pursuit of more efficient group management.

Interview with President Tamikata Tsukihashi: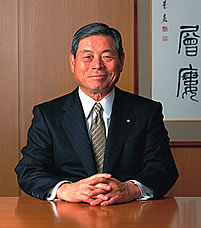 President
Tamikata Tsukihashi
Q1.
The Company did not pay a dividend in fiscal 2001. Please tell us why.
A1.
In fiscal 2001, consolidated net sales of Nippon Soda declined 6.4% from the previous year, to ¥138,267 million (US$1039.6 million). Although the Company successfully marketed both a new acaricide and a home sanitary product, overall sales of existing products declined due to prevailing economic stagnation.
Consolidated operating income eroded 34.7% to ¥3,134 million (US$23.6 million), despite heroic efforts to offset the sales decline by curtailing expenses and streamlining the logistic system. Consolidated net loss posted ¥5,964 million (US$44.8 million), owing partly to lower appraisal of stockholdings and losses from fixed asset disposition.
Although the Company has previously maintained a stable dividend payment policy, the unusual net losses in this fiscal year necessitated our decision not to pay a dividend for fiscal 2001, to our great regret.
Q2.
What is your evaluation of the Company's fiscal 2001 performance as the last year of the mid-term business plan?
A2.
We feel we have achieved promising results from the mid-term business plan. In particular, we made remarkable progress in rationalizing the structure of our consolidated group. In terms of fully exploiting the Group's diversity, for example, Koriyama Kasei Co., Ltd. produced the base for TITARON acaricide; Ibaraki Kasei Co., Ltd. and Nisso Jushi Co., Ltd. manufactured a new slime remover product; and Nisso Metallochemical Co., Ltd. produced BISPHENOL S, the primary raw material in color developer for thermal paper.
We are addressing group finance to curtail interest rates and use funds more effectively, while constructing the group accounting system to enhance efficiency on a consolidated basis. Furthermore, we reported the appraisal losses of stockholdings in the extraordinary loss category, thereby protecting the Company's assets.
The Company will continue to rationalize group management and improve the financial structure.
Q3.
Among the Company's new products marketed this fiscal year are TITARON and a slime remover. In the area of existing specialty and performance chemicals, the Company began in-house production of BISPHENOL S. What is the significance of these measures?
A3.
The Company's development of Kitchen Wonder© jointly with Kao Corporation as a slime remover for home use is significant in two ways. One: it employs molecular integration for a practical application of inclusion technology. And two: it's a successful entry into the environmental and sanitary categories of the home products market, joining our conventional toilet deodorizers and urolith removers.
As for TITARON, in December 2001 we registered this acaricide as an agrochemical and in early 2002 initiated aggressive sales. Agrochemicals are a core business for the Company and TITARON is the much-anticipated debut of our original agrochemical since 1995, when we introduced the insecticide MOSPILAN. We have positioned TITARON as one of our most important strategic products.
The Company started in-line production of BISPHENOL S as a raw material in color developer for thermal paper in order to release tight supply and demand constraints and to build up facilities in preparation for increased production. Our exclusive production facilities, which are located at Aizu Plant of Nisso Metallochemical Co., Ltd., a consolidated subsidiary, went into operation this spring, affording us the many advantages of through production from raw materials into completed products.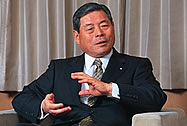 Q4.
As a "unique and excellent chemical products company emphasizing technologies," what type of selection and focusing strategy is Nippon Soda pursuiting in technological development?

A4.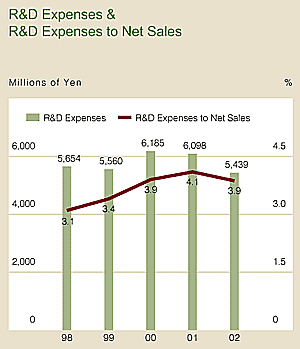 In research, the Company regards the development of spheres adjoining existing products as a key strategy. At the same time, we are increasing the allocation of management resources to long-term research and actively focusing management resources on the fields of agribusiness, eco business and specialty chemicals business, on a global scale. Our bases for research and development are the Odawara Research Center centering on agrochemicals and the R&D Laboratory for High-Performance Materials . In addition, each plant has its own specialized production engineering institute.
The Company's R&D system for agricultural chemicals is continuous, from basic research through applications and tests to evaluation. We are justifiably proud of this superb and unrivaled R&D system, which enables not only original product development but reduces the risks of commercializing new products and develops high profits by quickly incorporating market trends into our R&D activities. Following TITARON, we are now developing fungicide for garden products.
In the pharmaceutical field, we are now constructing exclusive production facilities at the Nihongi Plant in preparation for commercial manufacture of the base for carbapenem antibiotics.
As for eco business, the Company is fostering the PCB detoxifying process business, in parallel with photo catalysts and a chelating agent for heavy metals designed for use in flying ash treatment at waste incineration plants. Our detoxifying process uses metal sodium dispersants, the SD method, that are notable for enabling safe detoxification at low temperatures and normal atmospheric pressure. The Company received an order in the fiscal year under review from Hokuriku Electric Power Co., Ltd., our first step in commercialization of the SD method.
In the specialty chemicals field, the Company is advancing R&D activities of sulfur phosgene derivatives for highly functional products in a variety of fields.

Q5.
Please describe the outlook for consolidated operating results in the coming fiscal year.
A5.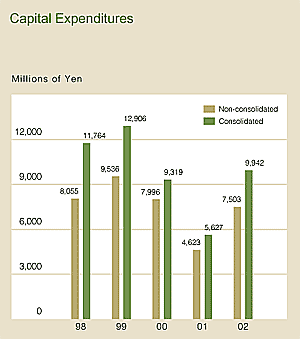 Although signs of business recovery are now apparent in the area of exports, the Japanese economy is still experiencing severe employment and earned income conditions that affect consumer spending, as well as reduced investment in plants and equipment.
The Company will take firm steps toward strengthening and rationalizing the management of the Nippon Soda Group through severe curtailment of costs and thorough reorganization of manufacturing systems, while at the same time reinforcing R&D and marketing capabilities.
In fiscal 2002 we expect to mark net sales of ¥149,000 million (US$1120.3 million), ordinary income of ¥5,700 million (US$42.9 million), and net income of ¥1,500 million (US$11.3 million), which will enable us to resume dividends.
Q6.
What message will you give to shareholders?
A6.
The recovery power of Japanese economy is still compromised, so the current deflationary business stagnation may persist for a time. In order to compete effectively and continue to grow under these conditions, we must further enhance our original technologies while developing and marketing the innovative products unique to Nippon Soda and our Group. Accordingly, we will continue reinforcing the management base and coordinate among the Nippon Soda Group firm cooperative steps toward substantive growth. We earnestly solicit and deeply appreciate your continued support and cooperation.


Tamikata Tsukihashi
President