Nippon Soda will reorganize and reinforce its management structure for further expansion and growth.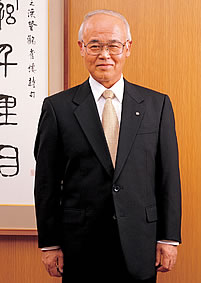 President
Katsunobu Inoue

Progress of businesses



Q1.
What is your evaluation of earnings for the term under review?
A1.
The market climate surrounding Nippon Soda Co., Ltd. was very severe in the fiscal year ended March 31, 2004. Although the Japanese economy showed some signs of recovery, the Company´s profitability worsened as mixed negative factors offset positive effects of cost reduction. The unfavorable factors included slowing demand due to the production transfer overseas, mainly to China, the prolonged deflation, price hikes for crude oil and the yen´s appreciation.
As a result, non-consolidated revenue and earnings decreased in the fiscal year under review, as net sales were ¥82 billion, down ¥3.7 billion from a year earlier, and net income was ¥800 million. Income from operations also remained at ¥2.6 billion due to decreased net sales. However, the Company paid a dividend of ¥5 per share for the term. Meanwhile, the Company posted consolidated net sales of ¥135.3 billion, income from operations of ¥4.6 billion and net income of ¥1.2 billion.
The Company plans to reinforce its management structures to obtain a business structure and system that will ensure stable earnings in the years to come. With a view to the current medium-term business plan, net sales dropped more than originally expected in the fiscal year. However, I firmly believe that managerial measures we are now proceeding with are appropriate. For fiscal year ending March 2005, we will make further efforts to improve and strengthen management structures in order to gain a foothold toward a new leap forward in and after the fiscal year ending March 2006.


Progress of restructuring



Q2.
What measures have you taken for corporate restructuring since you took over as president last year?
A2.
First, we clarified product strategies, while continuing to reduce costs throughout the Company and improve the profitability of each product. One example was the new plant established in Oita prefecture late last year to manufacture methyl mercapto propionaldehyde (MMP), materials of the feed additive Methionine, which began to contribute to increasing corporate competitiveness.
Second, we reinforced the research, development and technology divisions in April 2004 to accelerate the development of new products. Specifically, the Development Promotion Meeting was established to speed up the commercialization of new products. Along with this, the Company consolidated operations of specialty chemicals, our priority field, while forming the Electronics Materials Development Department to effectively leverage its resources of proprietary technologies. Given the strong potential demand for electronic materials, we expect a positive result. In regard to new products, the Company late last year obtained the approval of the registration for horticulture fungicide PANCHO-TF, and commenced full-scale marketing this spring.
Third, as one of strategic alliances, the Company acquired the agrochemical business from Dainippon Ink and Chemicals, Incorporated in April of this year. It also became the largest shareholder of Iharabras S/A. a company in Brazil, where the agrochemical market was sharply growing. In China, whose economic growth was outstanding, the Company transformed its liaison office in Shanghai into an affiliate, which was expanding local marketing channels. Aiming to raise the international presence of the Company, we strive to step up the overseas business under a quadrilateral structure, which consists of operations in South America and China combined with those at existing Europe and the U.S. bases.


Focal points for future expansion and growth



Q3.
What steps are needed to expand businesses? A3.
First, the Company needs to clarify the strategies of existing products and more strictly implement measures for improving profitability from them. To this end, each business division reexamines whether the current product marketing strategy meets the market environment that is changing at a more-than-expected speed, and further clarifies such a strategy. Through this effort, each division is expected to steadily improve profitability. Meanwhile, as competition between our products and imported products, mainly from China, is intensifying, we flexibly consider to sign OEM deals and others tie-ups with peers overseas to leverage their marketing channels there.
Second, we need to establish the basis for the further expanding and developing of our business operations by rapidly setting the stage for development and commercialization of new added-value products, which are based on our proprietary technology. High technologies, such as organic synthesis and precision polymerization, which have been accumulated since the Company´s inception, need to be focused on as corporate brands. It is crucial for the Company to concentrate management resources on these fields and develop new products for commercializing them as quickly as possible. To this end, the Company will also focus on research and development activities.
Third, the Company needs to form a strategic alliance with firms not only in the agrochemical field but in other business fields to build up financial strength and consolidate a solid management structure. This is indispensable to survive in the chemical industry, where corporations trying hard to stay afloat are now reorganizing and reviewing their operations worldwide in various product and business fields.


Effects of strategic alliances



Q4.
What effects are expected from acquiring the agrochemical business of Dainippon Ink and Chemicals? A4.
The acquisition of the agrochemical business from Dainippon Ink and Chemicals in April has already produced two major effects. The agrochemical business of the Company has expanded its product lines, centering on its proprietary products, including fungicide TOPSIN-M, agricultural insecticide MOSPILAN and herbicide NABU. Such an acquisition adds two fungicides of Dainippon Ink and Chemicals: BEFRAN and BELLKUTE, to the Company´s product lines, which is expected to produce a synergy effect in the fungicide sector, its field of expertise. Another effect is that the market highly evaluates the Company´s stance on implementing proactive management strategies.
The acquisition has increased a probability of achieving our goal to increase sales in the agrochemical business to ¥50 billion from the current ¥30 billion.
By combining the Company´s technological prowess and expertise of the purchased sector, the Company could penetrate into the preservative and antifungal agent businesses in the industrial chemicals category. We expect these businesses to favorably develop.


Outlook



Q5.
What is your earnings outlook for the following fiscal year (ending March 2005)? A5.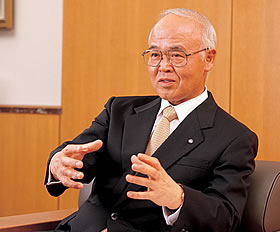 The Company´s business environment will likely continue to recover slightly. However, I cannot shake off uncertainties over the Company´s earnings outlook, given oil price hikes and the strong yen, which substantially impacts on the Company as its exports as a proportion of sales exceed 30%. Against this backdrop, the Company focuses on the development of proprietary, high added-value products that meet the market´s needs, while proactively implementing marketing activities, such as the expansion of sales territories and revision of prices. Concurrently, it will further reduce manufacturing costs and fixed expenses, as well as leverage management resources more efficiently throughout the group. Through these efforts, the Company aims to establish a management structure for securing stable profitability. To improve the group´s operational efficiency, the Company will integrate financial, procuring, IT and logistics operations, thereby strengthening the group´s management structure and competitiveness.
For fiscal year ending March 2005, the Company projects non-consolidated net sales of ¥86 billion and net income of ¥800 million. Meanwhile, on a consolidated basis, net sales are forecasted to be ¥140 billion and net income at ¥1.5 billion. Q6.
Do you have any messages to your shareholders and investors? A6.
To win intense competition and grow steadily in the global market, the Company definitely needs to differentiate itself from peers in the sector, by further evolving proprietary technologies and developing creative products. To achieve this goal, we will solidify our corporate management structure by concentrating the entire group´s resources, with "speed and practice" as key words.
We will also pay close attention to the entire life cycle of products from production to disposal, with emphasis on environmental preservation, safety and quality.
We hope that you, shareholders and investors, will extend even greater support and encouragement to the Company in the years to come.