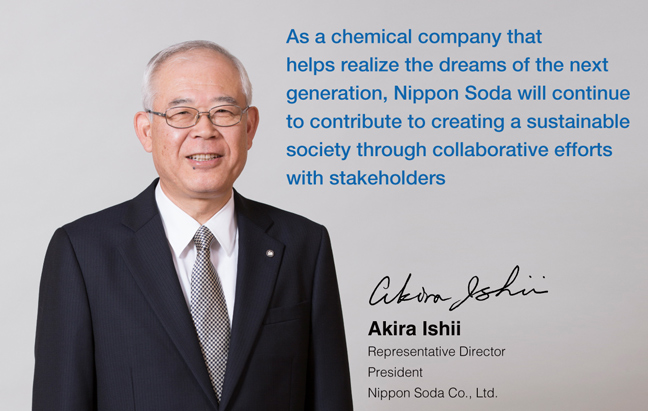 A Chemical Company Sought After by Society
Fulfilling the Dreams of the Next Generation
Since its foundation in 1920, Nippon Soda has committed itself to fulfilling its social responsibilities as a chemical company for ensuring safety, improving quality and protecting the environment. By developing and providing useful products and technologies that meet people's expectations, the company aims to build harmonious relationships with local communities and contribute to healthy social development.
Nippon Soda will celebrate the 100th anniversary of its founding in 2020. To ensure the company's sound development, we have detailed the ideal company that Nippon Soda aims to become by 2020 in the "Chemigress to 100," a long-term vision. In the new medium-term business plan developed in May 2017, we set goals to "further develop CSR management" with an emphasis on CSR activities to improve corporate value in the domains of agriculture, medicine, environment and information.
More specifically, our efforts will be primarily focused on the following: helping to ensure food safety and security as well as sustainable agriculture through agrochemicals in the agriculture domain; ensuring health for all people through pharmaceuticals in the medicine domain; ensuring the sound recycling of water and waste through chemical and technical competence in the environment domain; and ensuring the development of information appliances friendly to the environment and people by supplying high-function materials in the information domain.
Nippon Soda will continue its efforts to contribute to achieving a sustainable society with our priority on communication and dialogue with stakeholders.

Nippon Soda's business and CSR management
There have been rapidly increasing efforts by the international community to achieve a sustainable society, such as, for example, the adoption of the Sustainable Development Goals (SDGs) by the United Nations in September 2016. In response to this recent change in the social, economic and environmental landscape, Nippon Soda is implementing the new medium-term business plan (FY 2018 - 2020). The goals of this three-year plan are to become, by the company's centennial anniversary, the ideal company specified in the long-term vision "Chemigress to 100," and to enhance financial standing to further increase the value of our business. With a major emphasis on "increasing business earning power" and "creation of new businesses," we will focus our efforts on expanding our existing businesses, creating new ones, promoting development and strengthening the Group's business foundation. The final goal to achieve is an operating margin of at least 6.5% (at least 8.0% when trading business is excluded) and ordinary profit of 13 billion yen. We are also planning to invest 50 billion yen during the three-year period for future growth.
The new medium-term business plan also emphasizes the "further development of CSR management" in order to integrate CSR activities into the running of the company. For this purpose, corporate resources will be primarily allocated to the following four priority fields: agriculture, health care, environment and information. As a chemical company oriented toward providing products and technologies useful in addressing social issues in international settings, we make particular efforts to ensure the compliance of business activities with laws, rules, regulations and corporate ethics based on the Corporate Governance Code, and also to further improve the corporate governance system in such a way as to meet stakeholders' expectations.
CSR activities to protect corporate value and CSR activities to improve corporate value
Efforts in the "further development of CSR management," one of the priority activities in the new medium-term business plan, will be focused on creating sustainable value as a chemical company sought after by society through balanced implementation of CSR activities to protect corporate value and CSR activities to improve corporate value.

Nippon Soda's involvement in society has been based on responsible care (RC) activities implemented since 1998. Since the adoption in 2012 of the concept of social responsibility defined in the ISO 26000 international standards for corporate social responsibility, we have been expanding the scope of our social responsibilities in business activities. We divide CSR activities to protect corporate value into eight categories, including environmental protection, process safety & disaster prevention/BCP, and chemicals and product safety. In these categories, we, as a company dealing with a wide variety of chemicals, are promoting activities to minimize negative impacts that affect safety, the environment and quality.
CSR activities to improve corporate value are a material issue to Nippon Soda, which aims to make a greater than ever contribution to society through its CSR activities to protect corporate value. To improve corporate value, we will create business projects that are designed to maximize positive impacts caused by Nippon Soda as a chemical company so as to be beneficial to society. In these projects, the 17 Sustainable Development Goals (SDGs) will be taken into account. More specifically, our efforts in the agriculture domain are focused on increasing food production through proper use of agrochemicals to address the worldwide population increase.
In the environment domain, we provide Hi-chlon, a water treatment agent with high functionality, to various regions in Europe, the Middle East and Asia to help ensure a stable supply of water resources. To address such global social issues as described in the SDGs, we believe that simultaneous improvement efforts among companies throughout the world in their individual business projects will lead us toward the achievement of a sustainable society.
As a company contributing to realizing a sustainable society
Efforts to develop products and services that contribute to addressing social issues in the international community will be focused on research and development in the materiality domain. We also aim to expand our business into new fields by effectively using our own technologies with distinctive features. To achieve this aim, our research and development system will be improved through selection and concentration on the following business areas: cellulose derivatives, functional polymers, color developers for thermal paper, and environment-related chemicals. We will provide products that help realize the dreams of the next generation and build a sustainable society so as to increase our global presence as a chemical company that contributes to social development.
To fulfill the abovementioned goals, we need to transform into a corporate group that values diversity. In 2016, we developed the Diversity Policy. By using this policy as a growth strategy, we will promote the development of human resources who are trained and ready to take on challenging opportunities to create new business projects as well as promote the creation of workplaces that all employees can enjoy working in. As a company dedicated to addressing global social issues, we will foster and strengthen a corporate culture that will help employees enjoy their work and workplace.
Nippon Soda will continue its efforts to build a sustainable society as a globally competitive chemical company that helps realize the dreams of the next generation and creates innovations to address various social issues, such as those related to food, health and the environment.