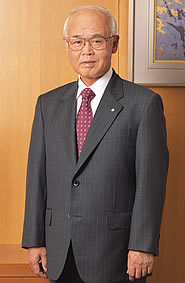 President
Katsunobu Inoue

1.Evaluation of business results for the term



Q1.
What is your analysis and evaluation of the business environment and earnings of the term under review?
A1.
During the term under review, the Japanese economy as a whole continued to recover moderately, as capital investment and consumer spending remained strong while exports and production turned upward in the latter half of the year.


The chemical industry, particularly the petrochemical sector, found itself facing a harsh business climate mainly because of a decline in the market, centering on the Asian region, and high cost of raw materials and of crude oil.


Against the backdrop of rising cost of raw materials and fuel, fierce global competition, and rapid changes in the demand structure, consolidated revenue and earnings of the Group in the fiscal year ended March 2006 decreased over the previous term. The Nippon Soda group posted net sales of ¥143.9 billion, and ordinary income* of ¥4.6 billion, 16% down year-on-year.


We booked impairment loss on industrial chemicals and the feed additive Methionine at the Nihongi Plant, and recorded expenses for structural reform as extraordinary loss. As a result, the group posted a consolidated net loss of ¥6.3 billion. Regrettably, we have had to make the hard decision to suspend payment of dividends for the term under review.

| | |
| --- | --- |
| * | Ordinary income is a basic benchmark for business performance in Japan. Due to reclassification, however, ordinary income is not posted in the statements of income in the English-language version of the Annual Report. |


2.Progress of the medium-term business plan



Q1.
The Company announced a medium-term business plan in November 2005. Please tell us about the background of the formulation and its basic policies?
A1.
The plan was formulated to cope with the harsh business environment surrounding our existing products, including intensification of international competition, rapid changes in the demand structure, and price hikes of raw materials and fuel, as well as appropriately to respond to products and businesses that are subject to the impairment accounting as our priority issues. Concurrently, we make it a basic policy to establish an efficient management structure through "structural reform" across the board, aiming to achieve
"a non-consolidated operating income of ¥5.0 billion, total assets of ¥135.0 billion, and a ratio of operating income to total assets of 4%."


Q2.
Please summarize how you have reassessed the existing business (that is, measures against impairment loss relating to the Nihongi Plant) and the progress of the assessment. A2.
Industrial Chemical at the Nihongi Plant
With regard to measures in relating to Industrial Chemicals, the Group reviewed production system for potash electrolysis at the Nihongi Plant due to diminishing the demand for cathode-ray tubes (CRTs) by drastic change in the demand structure along with TV tube´s shifting from CRTs to crystal displays. In addition, we have decided to halt production of sodium metal from autumn 2006 effectively, given lowering of capacity utilization by diminishing the demands and aging progressed facility. From autumn, the Group will sell imported sodium metal, while continuing to run a derivatives business as usual.

Feed additive Methionine
The feed additive Methionine business is now in a harsh environment, due to a surge in raw materials and fuel costs caused by higher oil prices as well as a decline in the market amid the widening demand-supply gap caused by the worldwide outbreak of avian flu. This has resulted in the Nihongi Plant being less competitive in the manufacture of Methionine. Accordingly, we have decided to cease production of Methionine in the first half of 2006, and outsource such production to other domestic manufacturers.

Electric power, steam and other auxiliary sectors
In order to cope with drastic decrease in demand for power and steam by cessation of production of industrial chemicals and the feed additive Methionine at the Nihongi Plant on April 1, 2006. We transferred our thermal power generation facility to Joetsu Energy Service, a new electric power supplier, who has plans to sell our surplus power to outside companies.
From now on, we will purchase electricity, steam, etc. that we need from Joetsu Energy Service, which is expected to bring benefits in terms of costs, thanks to
an increase in the utilization rate of the plant. In addition the staff we sent to Joetsu Energy Service will undertake operating the facilities there.

Q3.
Please tell us about the key measures for expanding businesses. A3.
Agro chemicals
In the mainstay agro products business, although the Company´s net sales amounted to about ¥37.0 billion on consolidated basis, we will pursue to raise both sales and profits by establishing an operational base targeting sales of ¥50.0 billion or so, in the future.

To this end, we will proactively promote the following measures:

| | |
| --- | --- |
| (1) | Focusing on creation of promising agents such as acaricides through in-house development and more advanced development; |
| (2) | Development of the themes transferred from Dainippon Ink and Chemicals, Incorporated (the development is in progress and commercialization is on the horizon); and |
| (3) | Introduction of other companies´ chemicals and joint development of mixed chemical agents. |

Also, overseas, we are further developing our own network. Following establishment of Nippon Soda Trading (Shanghai) Co., Ltd. last year, Cerexagri-Nisso LLC, a U.S. joint venture for sale of agrochemicals, started its operations in January 2006. In this way, we developed and enhanced our sales networks.


IHARABRAS S/A of Brazil with which the Company is reinforcing its relationship as the largest shareholder, continues to serve as a good key base for the South American market. Through setting up our own sales network in the major overseas markets, the Company will be able to expand sales and enhance profitability.

Dye stuff chemicals
In the thermal-sensitive dye field, focusing on color developers, we are now developing "D-100," following
"D-8" and "D-90." We will endeavor to develop new chemicals, with an eye to creating new dyes that have good characteristics and economic efficiency.

Pharmaceuticals
In the pharmaceuticals sector, we filed a new drug application for "FAROPENEM MEDOXOMIL," a new penem disinfectant drug, in the U.S. at the end of 2005. In cooperation with our partners at home and abroad, we aim to start selling this substance by the end of the current fiscal year. Also we expect it to sell well after bringing it to the market.

Dechlorination treatment for PCBs
The treatment system by dechlorination for PCBs, which uses our proprietary SD method based on sodium metal, is being stably operated by Hokuriku Electric Power Company and JESCO (Japan Environmental Safety Corporation) in the first stage of its Kita-Kyushu project.


Tohoku Electric Power Co., Inc. has also decided to introduce this system. Based on actual results and mindful of the high appraise we earned from the end users, we will steadily expand the use of the system by proactively responding to demand from JESCO (for the second stage of its Kita-Kyushu project) and from private companies.

Q4.
With respect to R&D and new business fields, please tell us about the progress of the creation of businesses in the electronic materials sector as well as the early commercialization of SAM (Self-Assembled Monolayer) related themes. A4.
Since its announcement last year, "SAM," a nanometer substrate-surface-treatment technology, has evoked a larger response than we had expected. At the moment, we are having discussions with various companies about commercialization of this technology. To realize early commercialization, we have determined the priority areas and established facilities that can be jointly used for experiments. Through these efforts, we hope the technology will be commercialized within the current fiscal year.

Q5.
Please tell us about the progress of reduction in fixed costs and reductions of total assets. A5.
From now on we will improve our existing businesses following the review of fixed costs and total assets. Taking into account a corporate structure that corresponds to the Company´s scale and expected earnings after completing such improvement, we are promoting workforce out and reduction in fixed costs since April 2006. We plan to decrease the number of staff by about 200 to 1,350 by the end of fiscal 2006, through dispatching and transferring to affiliates both in and outside the Group, as well as by implementing an early retirement program.
We will work for realization of our total assets to ¥135.0 billion, by reducing our fixed assets, inventories, and other items by a total of ¥22.0 billion from the levels seen at the end of March 2005.
In March 2006, we issued convertible bonds with stock acquisition rights work for ¥5.0 billion in order to raise the operating funds in line with implementation of the restructuring measures under the medium-term business plan. All these bonds were converted into stock by April 2006.


3.Outlook for the current fiscal year, and message to shareholders and investors



Q1.
What is your forecast for the 138th term (from April 2006 to March 2007)? A1.
Although the Japanese economy is expected to basically continue recovering, it needs to be closely monitored in view of the higher prices of energy, resources and raw materials as well as uncertainties over the future trends of currency and interest rates.
Despite such concerns in the 138th term (fiscal 2006), we have to implement various measures of the medium-term business plan, which was formulated in the previous term.
In the current fiscal term, we need to steadily carry out the restructuring steps we have been promoting since fiscal 2005, including a review of the existing businesses and a reduction in the number of staff and assets. We also need to establish lean and efficient management structures at which we aims. Fiscal 2006 will be a transitional year from the perspective of achieving the targeted operating results.
As for the consolidated business results for fiscal year ending March 2007, we forecast ¥144.0 billion for net sales, ¥6.3 billion for ordinary income*, and ¥3.2 billion for net income. We plan to pay dividends.

| | |
| --- | --- |
| * | Ordinary income is a basic benchmark for business performance in Japan. Due to reclassification, however, ordinary income is not posted in the statements of income in the English-language version of the Annual Report. |

Q2.
What is your view on the next medium-term business plan? A2.
Under the present medium-term business plan, we have to tackle many tough issues. We will solve them with unwavering resolve, aiming to achieve the management objectives for fiscal 2007, including "a non-consolidated operating income of ¥5.0 billion" and "a consolidated operating income of ¥8.0 billion." Then, we will draw up and implement the next medium-term business plan, aiming to expand and develop businesses based on lean and efficient management structures. By doing this, we will endeavor to transform ourselves into a new Nippon Soda group.

Q3.
Please tell us about disclosure and compliance measures. A3.
The Nippon Soda group will carry out "Responsible Care Activities" to implement environmentally friendly operations, as well as to promote the enhancement of compliance system by establishing the "Nippon Soda Group Code of Conduct" in order to thoroughly implement the corporate behavior based on "compliance and corporate ethics." In addition, we will further improve our internal control system based on our management philosophy - "implementation of healthy and transparent corporate management while complying with laws."


Meanwhile, we will strive to raise public confidence in the group by enhancing the timely disclosure of management information.


We sincerely ask for your understanding and support for our efforts.