How do you expediently bring developed products to mass production and provide a stable supply to the market?
That is to say, in the age of mega-competition of chemical companies, production technology performance is a vitally important requirement.
At Nippon Soda, along with establishing production technology research centers at each plant that serve to structure and improve the production process, we are working on a formation to provide stable supplies of high quality products.
The roles of each department in supporting efficient production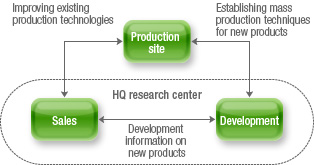 From realization of effective scale-up to new research feedback
Manufacturing technology research centers are established at each of Nippon Soda's plants (Nihongi, Takaoka, Mizushima, and Chiba.) In addition to production technology engineers, many synthesis chemists are assigned there. Beyond establishing mass production technologies for new products, they promote the improvement of existing production processes and the engineering and development of diverse technologies. Additionally, they also carry out unique research not limited to a specific mass production theme such as new synthetic reaction research aimed at establishing next generation production technologies. Furthermore, in 2010, in addition to the two lines of testing facilities already in place at the Takaoka plant, we constructed testing facilities compatible with special reactions such as fluorination, high pressure and extreme temperatures. By effectively utilizing these test production facilities, we not only test mass production related to diverse chemical compounds, but also actively carry out sample shipments of agricultural and pharmaceutical intermediates and fine chemical products as well as small lot contract production.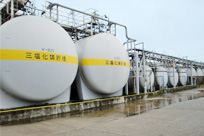 Product storage tanks

Manufacturing equipment