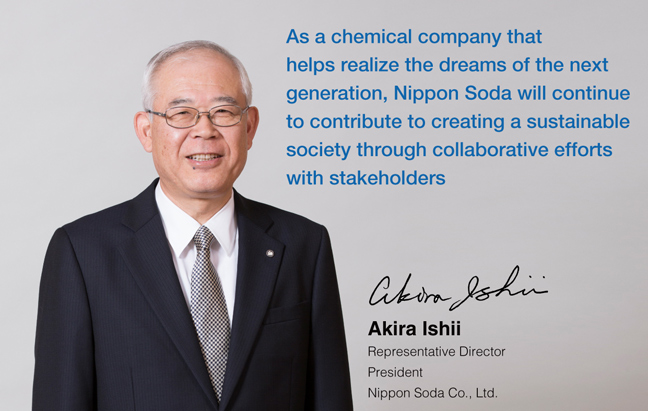 The Nippon Soda Group is committed to ensuring its sound development into the future so that it can continue to contribute to society through its business activities and provide its employees with a motivating work environment.
Under the new management system, the Group will, in response to the rapidly changing global political and economic environment, strengthen its corporate structure in line with the motto "speed and reform" to ensure further progress.
Establishing a solid growth trend into 2020
In fiscal 2011, the long-term vision "Chemigress to 100"1 was presented. This vision defines the position that Nippon Soda seeks to achieve by 2020, the year that marks the company's 100th anniversary. The "Chemigress to 100"*1 vision is divided into three stages: the first stage, from fiscal 2011 to fiscal 2013, during which the previous medium-term plan was implemented; the ongoing second stage, from fiscal 2014 to fiscal 2017, during which the current medium-term plan is being implemented; and the final stage, ending in 2020, for which a new medium-term plan is to be developed in fiscal 2017.
The new medium-term plan will set out a specific and clear strategy showing the direction the Nippon Soda Group will take and what kinds of new projects it will be involved in, since the implementation of existing projects alone would not be sufficient to produce greater results, nor would it allow us to achieve the goals included in the vision.
We are determined to expand our business and execute the vision with an eye to the next 100 years, and will make proactive investments accordingly. We are now adjusting course to put ourselves on a solid growth trend toward 2020.
Three efforts to achieve remarkable growth and our goals
The following three priority actions implemented under the medium-term plan for the second stage will be completed:
Expansion of growth drivers
Efforts have been focused on the development of three new agrochemicals. We have already started the construction of manufacturing facilities at the plant and a production system is being established. With regard to chemicals, a system to increase the production and sales of HPC*2 has been established. We are also considering enhancing the production of functional polymers, developers and other chemicals.
Enhancement and restructuring of the business foundation
Efforts have been made to ensure ongoing cost reduction and improve research efficiency on the manufacturing side and, on the management side, to improve operational efficiency and develop globally competent employees and an organizational structure that facilitates global operations. In our restructuring efforts, we will carefully review various aspects, including impacts on other departments, so as not to leave anything undone.
Improvement of the Group's comprehensive capabilities
As part of our efforts for the improvement of the Group's comprehensive capabilities, we made Sanwa Soko Co., Ltd. our wholly owned subsidiary in fiscal 2015. We hope to generate synergistic effects for the Nippon Soda Group through the physical distribution function at the earliest possible time. With primary importance placed on the improvement of the value of the entire Nippon Soda Group, we will continue discussions with group companies so that we can effectively use the resources of the entire Group.
Sound and transparent business management to contribute to the development of society
Our CSR activities shifted into full gear in fiscal 2013 and, in fiscal 2015, were expanded throughout the Group. Companies are increasingly expected to fulfill their responsibilities to society. To meet social expectations, the entire Nippon Soda Group commits to collaborative efforts to improve CSR activities.
Compliance
Our focus will continue to be on ensuring sound and transparent business management in compliance with laws and regulations. To further enhance our compliance practice, we provide employees with regular training and information-sharing opportunities, as well as conduct regular audits.
Efforts to ensure safety
In fiscal 2015, we achieved the target of no occupational accidents causing an absence at Nippon Soda including all group companies in Japan for the first time since we started recording safety data. In fiscal 2016, however, we failed to achieve the target of no occupational accidents causing an absence. We will continue to enhance our efforts to ensure safety on a daily basis so that we can achieve the target of no occupational accidents causing an absence at all group companies in Japan and abroad.
Corporate governance
The Corporate Governance Code was introduced in June 2015. It defines numerous standards of governance and management for listed companies with the aim of increasing the transparency and rationality of corporate management. Nippon Soda has added two new independent outside directors and will further enhance its corporate governance practices to ensure sound and transparent business management, to contribute to the development of society, and to be trusted by all stakeholders, as described in its basic principles.
Balanced implementation of CSR activities to protect corporate value and CSR activities to improve corporate value
As a chemical group dealing with numerous chemical and hazardous substances, we have actively been engaged in CSR activities aimed at protecting our corporate value. These typically take the form of responsible care activities intended to minimize negative impacts. In our pursuit of CSR going forward, we will also place emphasis on business activities that contribute to society through the provision of products to improve our corporate value. These will be activities aimed at increasing positive impacts, such as social contribution.
As a group valued by society, we aim to achieve sound development by committing ourselves to
ensuring community- and environment-conscious "Nisso Safety" and "Nisso Quality"
in our CSR activities to protect corporate value, and
creating new value through the power of chemistry and contributing to society through products
in our CSR activities to improve corporate value.